Been a wee while since I've spraffed nonsense on here, but again it's been some time since I've been to any events. My spidey sense tells me that I was supposed to follow up my preview post about Dark Millenium, which I never did. Despite a lot of fun and some classic moments, my Death Guard finished in true mid table obscurity fashion with a 3 and 2, so no great surprises there.
Like I said, it had been months since my previous event and I decided that a trip to Newcastle for the Summer Slam GT would be worth it. She Who Thirsts' is from there, so we could catch up with her family shenanigans and I could also play some games, win win. It would also be my first experience with ITC missions. I was looking forward with baited breath at the mind frying variety of strategic and tactical wizardry that would accompany this exploration of the unknown ITC void. read more
Hi everyone and welcome back for another episode where we cover the Allies of Convenience GT, discuss our tournament and our success or lack thereof, with regular hosts, Innes,
Ryan
and Aidhan, along with special guest Brian Convery. In this episode we also take a dive into some of the more esoteric lists from the ETC, with our soon to be trademarked levels of talking crap.
ETC List Document
Podcast: Play in new window | Download
Subscribe: Apple Podcasts | Android | Email | Google Podcasts | RSS | More
Hi everybody and welcome back to Caledonian Deathwatch Radio after a long break!
We're returning with a new 'Season 2' of the show, featuring Innes and two brand new Co-hosts, Ryan and Aidhan. On this episode we're going over the upcoming Allies of Convenience Grand Tournament, discussing our lists and some of the stand-outs from the event, which can be found on Best Coast Pairings if you'd like to follow along. Thank you all for bearing with us through the hiatus, and we hope you enjoy the new take on the show! read more
Podcast: Play in new window | Download
Subscribe: Apple Podcasts | Android | Email | Google Podcasts | RSS | More
Hi Everyone!
Hope the hobby has been kind to you all! Before the main post, just wanted to put out a huge thanks to all the members of the community who have reached out to check in, and inquire about Vanilla Fudge Jr! All is going well, although I have still not really managed to get any hobby time in yet! I'll get there i'm sure….
For those wondering about the podcast, the intention IS to try and get going again, just not sure when this is going to happen yet. For now, i'm going to try and get my toe back in the water with the hobby a bit, and maybe get an article or 2 crunched out. read more
This "mini-sode" features a brief catch-up with myself and Sean Post Dark Millennium, and we have a general hobby chat as well.
PS – This post was scheduled to Launch at midnight on the 8th of March. At this time i'm unsure whether or not mini-fudge will be part of the world (but I think this was the most likely date for her arrival). Either way, i'm going to be out of the podcast game for a while, and just want to express my thanks to all of our listeners and followers, and also to everyone who has passed on their good wishes. Stay tuned to the website for articles (as I know a few people are planning to continue writing them), and watch this space for the return of the podcast. read more
Podcast: Play in new window | Download
Subscribe: Apple Podcasts | Android | Email | Google Podcasts | RSS | More
Liam asked me to write a response to his article on Chess Clocks in 40k. Why you might ask? Well, I used them when preparing for the LVO, and in three of my 6 games at the LVO, so I have some experience of using them "in real life".
I have to say, I was sceptical. After LVO 2018, when Frontline Gaming announced that they would use clocks at LVO 2019, I wasn't impressed. In fact, I was so unimpressed I decided not to go, simply because of the clocks. However, over the year I mellowed to the idea and started to use them. I'm now a "fan". IMO Chess Clocks work well for 40k, and I suspect they are the way forward. They take a bit of getting used to, no doubt, but all my games where I used them were fine. read more
Our biggest home-grown tournament (Dark Millennium) has just wrapped up for another year, and as far as I know fun was had by all and there wasn't any major drama. This is exactly the sort of scenario that we like to see as Tournament Organisers, because the last thing that we want is for everyone's fun to be ruined by players using the timekeeping rules to their advantage.
Although we had no issues at Dark Millennium, the question was posed to me several times, from several different people in the run up to the event: read more
Popping the Cally Cherry
Or
How to Make Sweet Sweet Hobby Love in Stockport
In my time of being involved in 40K, dear readers, I have been to a number of tournaments Dark Millennium, Bad Decisions, Rapid Fire, Stronghold, Scottish Takeover, Northern Warlords, Throne of Skulls….done singles, doubles and team events…one day events, weekenders…travelling up and down the fair land always chasing the 40K dragon.
Now hardcore tournament gamers will have lots more tournaments to add to that and probably go to them on a far more consistent basis than I do, all for a variety of reasons. They might be looking to get practice in or to hone a list for a mucho mucho grande tournament further down the line. They might be looking to improve their game or become a better player. They might be social outcasts and the brotherhood of 40K events is their chance to be with likeminded people who understand their insatiable hobby needs. They might be trying to harvest precious ETC or ITC points to improve their rankings to perhaps even get into Team Scotland, England, etc etc. Or they might just be skanks for the 40K and can never get enough. read more
At the weekend I will be attending Dark Millenium, for the first time since 2016. Fairly excited about it, as not only is it a great event, it also happens to be run by the shadowy form of Mr Liam O'Shea, the 'instinctive behaviour: lurk' puppet master of the Caledonian Deathwatch. Also, DM happens to represent the last time I ever done anything of note at an event, when I came 2nd in the 2016 event, just before I absconded from proper tournaments for the best part of 3 years. As I've documented in my previous blog posts, its been a rough ride getting back into the swing of things, with a few pastings for me – all be it with forces other than the Death Guard. Hoping to see some progress here, though I do appreciate that its going to be a tough one as there are some very good players coming. I've put in a bit of practice though, and know what my army should be able to achieve each turn. read more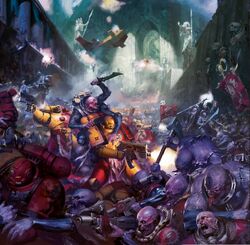 I feel like I'm having an affair!
My Harlequins are like an elegant sophisticated woman – the one you take to the posh restaurant, or the Black Tie Dinner. She would "flow" into her dress and glide across the dance floor, looking stunning. Everybody would admire her from afar, and she would smile and laugh as they plucked up the courage to stutter a few words.
However, once you get home, you go to your separate bedrooms, and her door closes with a "click".
On the other hand, if GSC was a woman, you might not take her to the posh restaurant (KFC more likely), and she might not turn heads at the Black Tie Dinner (well, she might, but it would be for different reasons). But when you got home…….well, she would probably bring a friend, and you would wake up next morning (maybe), sore, dehydrated and traumatised by what happened ……. but you would be looking forward to next time. read more