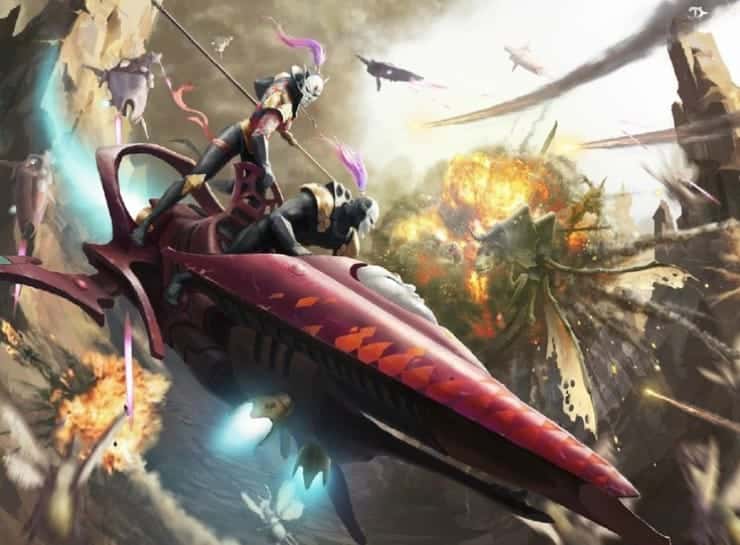 Just a quick update on my "Road to the LVO 2019" journey.
Sadly, the ITC Bunker Tournament last weekend was canceled due to a lack of attendees. However, I'm just back from Fire Warrior II a 1 day RTT run by the Border Rievers Wargamers. It was a fair size for a one day event (23 people) and had some of the best terrain I've seen at any tournament.
It was a 1750pt tournament, so the list I took was a little different. Essentially the choice I had was either dropping a Troupe and their Starweaver, or dropping the Skywires. I chose to drop the Skywires, which once I saw the List Doc I regretted. There were so many Knights!
So my list was
Shadowseer
Troupe Master, Fusion Pistol, Kiss
Troupe Master, Fusion Pistol, Kiss
Troupe, 5 Players, 4 Fusions, 4 Caresses
Troupe, 5 Players, 4 Fusions, 4 Caresses
Troupe, 5 Players, 4 Fusions, 4 Caresses
Troupe, 5 Players, 4 Fusions, 4 Embraces
Solitaire
Starweaver x 4
Archon
3 Ravagers with Dissie Cannons
Usual format – brief bat reps, and some thoughts on my list.
Game 1
Game 1 was against Tau. Three XV8 Commander (one of them a Coldstar), 4 units of Fire Warriors, 2 units of Breachers, a Cadre Fireblade, an Ethereal a Riptide and a Y'varna. If it wasn't for the Y'Varna I would have been reasonably confident ….. but that guy's a monster. However, one of the great things about ITC missions is you can choose secondaries to suit your army (and your opponents), and play around scary units. Which is exactly what I did. I largely ignored the Battlesuits and killed everything else. By the end of the game I had almost maxed out Secondaries (Butchers Bill, Reaper and Head Hunter), and done reasonably well on Primaries. At the end of turn 5 (when we called it for time) I had an Archon and 3 Players left. He had both Riptides (neither of which I had shot at or assaulted all game), and all 3 commanders left – but I won 24-19.
Game 2
Against Deathwatch. With all due respect to my opponent, this game was over before I even rolled a dice. My army murders marines. I tabled him on turn 3. 
Game 3
Final game against Tau. Thankfully no Y'varna. He had an Ethereal, a Fireblade, a bunch of Fire Warriors, some drones, some Marksmen, a Riptide and 3 Hammer Heads with Ion Cannons, one of them being Longstrike.
The plan here was to kill Longstrike ASAP. While Starweavers aren't too scared of Ion Cannons, they would murder the Ravagers. Mathhammer says I kill Longstrike if he eats alter Disintegrator Cannons, so that was the plan. But the plan would fail if I didn't get first turn and he killed the Ravagers. So the decision I had to make was  – do I reserve the Ravagers using screaming jets, or "gamble" on getting first turn (I would get the +1 to go first). After some thought I decided I needed the command points later in the game, and gambled on going first …. which luckily I did.
So turn one I killed Longstrike, and launched a Starweaver on a Long Range Fusion Drive-by with Twilight Pathways, killing another Hammer Head. The Solitaire blitzed into a bunch of Firewarriors, killing them, and then fought again to kill a Marksman. Things were easier after that! There were a few anxious moments, when the Riptide and its Drones tanked 30 Fusion Pistol shots over 3 turns of shooting, but I won in the end.
So 3 wins, took me to third place, and 2nd in the ITC rankings for Harlequins in the UK (15th World Wide). Happy with that.
As for my list, I will certainly put back the Skyweavers. With so many Knights around theyre essential IMO. The only thing I have a question mark over is the Shadowseer. The only "essential" power is Twilight Pathway …. but I think I can cope without it. The 2000pt list only has one Troupe Master, and a 2nd Troupe Master might be a better option than the Shadowseer. That should give me enough points for a Deathjester. 
Now, I've always said that a Deathjester isn't that good, but an issues I often have is holding down back field objectives … for 45pts, a Deathjester might be the ideal back field objective camper.