Archive for the 'Bloghammer' Category
Greetings fans of the Executrix!
So here we go! In this post i'm going to talk about the painting process for ALL of my Armiger class knights (because really the process was largely the same on all of them).
First, I drybrushed Leadbelcher over EVERYTHING – torsos, legs, weapons. This was on top of the Mechanicus Standard Grey basecoat that I had already applied to everything (and yes, i promise I thinned my paints!)
Then as per the advice of the Duncan tutorials, I drybrushed "features of interest" on the skeleton Balthazar Gold. So I went for obvious things such as exhausts, cogs, some interior armour plates, tubing, those kinds of details. read more
Greetings fans of the Executrix!
This article is going to be short today, but it's more to collate the upcoming process that i'll be trying to follow when paining the Knights for the army.
I'm now in a position where i'm ready to start painting the Knights. Before I watched any tutorials, I literally undercoated all of my models with Mechanicus Standard Grey:
Probably not the best undercoat for the die hard painters out there, but I hadn't used this before. My logic was twofold: read more
Greetings fans of the Executrix!
Apologies for the delay in this latest installment, but I do have some good news to report! The painting of the army is complete (well the knights are anyway)! I found myself with a fortunate abundance of spare time over the last few weeks, so I decided that I would take the chance to "paint now, blog later"!
Not to fear though, this just means that you loyal readers will be spoiled with a new article every day up until the end of the blog series!
I'm not going to get the Shield Captains built, or the Van Saar infantry painted that I had planned in time for the next few events, so those additions can come to the army at a later time (or maybe in the dead of night when I am feeding a cranky baby!) read more
Hey Guys!
For those of you following my Hobby Blog, you'll know that i'm working on a new Imperial Knights force. Taking a sidestep on the hobby content for that today to actually talk about some of my thoughts for tactics. I'm going to be talking mostly about Knights as a mono faction force, but I will include some other thoughts on allies near the end. This is all subjective, and of course please feel free to reserve the right to say that I am talking rubbish!
So I think a good place to start with this is "What are the big winners and big losers from the FAQ?" read more
Bad Decisions II
Or How I Learned to Stop Worrying and Love Rolling Dice
That's right 40K fans Bad Decisions 2 has been and gone so it's time to give you the low down on what happened.
First up Bad Decisions is a team based tournament over a weekend, with 4 players in each team. My team consisted of myself running a Chaos soup army, Commander O'Shea using a Knight list, Sean Morris Systems with his Tau and a ginger using Eldar. (To be fair Brian is a cool guy and anybody who says otherwise is obviously worse than a ginger.)
So we had the team assembled we just needed a name Team Mongo was the first one, then it changed to Team Exile and also to Team The Bump, it would transpire over the course of the tournament that we would have more team names than team wins. read more
Greetings fans of the Executrix!
Apologies that it's been so long since the last hobby update on this project, but much has been happening recently in my world! We had Bad Decisions II a few weeks ago, and we also found out that mini-me is on the way, due in March! So I've been very excited in many many ways! The baby news has given me more impetus to get this project over the line (as I am assuming that the majority of my hobby time will evaporate in March), so lets get to it!
This segment had me building the very cool Armiger Helverins – who I have to say in the playtesting I've done have been rather impressive on the table! read more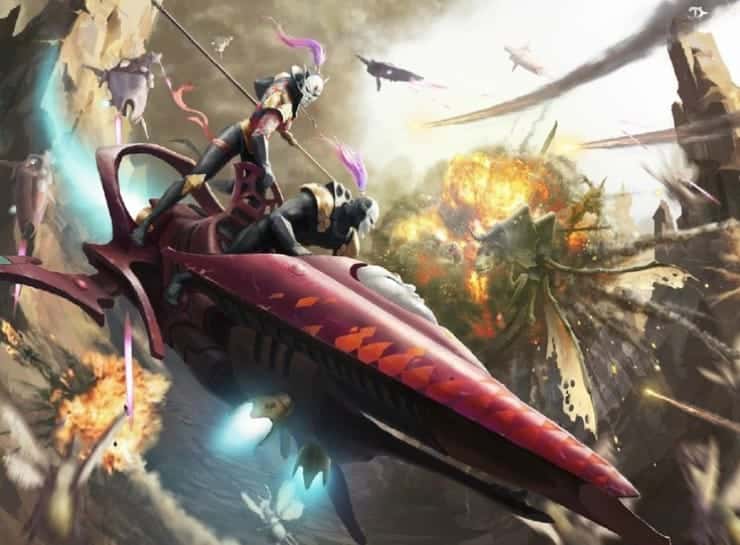 Just a quick update on my "Road to the LVO 2019" journey.
Sadly, the ITC Bunker Tournament last weekend was canceled due to a lack of attendees. However, I'm just back from Fire Warrior II a 1 day RTT run by the Border Rievers Wargamers. It was a fair size for a one day event (23 people) and had some of the best terrain I've seen at any tournament.
Greetings fans of the Executrix (bonus points if you read last edition's fluff article)! In this installment of the project blog, I take on the challenge of building and magnetising a Dominus class Imperial Knight – the dreaded Castellan!
This thing was absolutely monstrous! I didn't count, but there had to be at least 100 components in putting this beast together! The whole thing came over 3 separate sprues:
It was certainly looking to be a challenging build: read more
Tau are a tough match up for Harlies. They have a huge volume of s5 shooting, which will just blow through our -1 to hit buffs, and 4++ invulnerable saves. However, as always with Tau, once you're "in" it's pretty much all over. It's getting there that's the problem. 
So here are some thoughts about how to get into a tau gun line. Now, to be fair, this is more of a "thought experiment" than a true tactica. Circumstances will vary so much in execution that a blow by blow "play book" is a bit pointless. However, it's presented in that form here simply to illustrate at least some of the tools you can use. read more
Hey everyone!
Our next podcast episode will be up shortly, but while it's uploading I wanted to put out another post to gauge interest for a future episode.
Longer term fans may remember a one-shot RPG we did of the 40k based game Deathwatch:
I think i'd quite like to do another episode on this. I don't know what the status of the upcoming Wrath and Glory game is at the moment:
I would want to do one of the original FFG systems, either:
Dark Heresy
Rogue Trader
Deathwatch
Black Crusade
I would act as the GM for the game, but if there are fans of these games among our follower base out there and you'd be keen to play – please let us know! Whether you are local to us, or across the pond (or even down under!) we will work to make it happen. I have used Roll20 for remote sessions before, and in person is also fine. Either way, if you are interested then please get in touch via the website, Facebook or Twitter or via our email [email protected] read more