Archive for the 'Bloghammer' Category
Greetings fans of the Executrix!
If you are reading this post, i'm assuming that you have followed the journey of building this army from the start. If that's the case (and even if it's not), thank you SO much for following this journey. It's been an absolute pleasure to share this experience on the website, and I hope that you've enjoyed following it along the way.
I feel like I have learned so much, and tried so many things:
Magnetising
Stripping Paint
Basing Techniques
Plasma Glow Effects
Freehand Banner Work
Knowing how to thin my paints!
Transfer sealing
I've made this point a few times in the series, but I really want to express how bad a hobbyist I usually am! But If I can at least have an attempt at these techniques, you absolutely can give it a go as well! I hope in some small way my techniques and experiences have helped you (or at least shown you what to avoid)! read more
Greetings fans of the Executrix!
In this installment I get the Castellan up to scratch like the rest of his Knightly Cohorts. I'm going to keep this article shorter, because many of the techniques I used to paint this model are ones that I have already discussed through painting both the Armiger and Questoris class knights. So firstly i'll just show you some photos of the chassis from the painting process:
One difference in this model that I did want to draw attention to was the Plasma Decimator. Plasma guns are something that i've been scared of in the past. I usually just slap on one colour and call it finished. I went to check YouTube for a tutorial, and to my relief and surprise, there was a Duncan tutorial on just this subject! read more
Greetings fans of the Executrix!
So with the colour scheme nailed, it was time to move onto painting the Questoris Knights. I painted both Knights together over the space of a few days, doing the same parts on each knight at the same time. This way I found it easier to maintain a level of consistency – not too different to the "production line" technique that i've seen applied to units such as Tactical Squads or the likes.
As mentioned in an earlier post, I had undercoated all of the components with a spray base-coat of Mechanicus Standard Grey: read more
Greetings fans of the Executrix!
So here we go! In this post i'm going to talk about the painting process for ALL of my Armiger class knights (because really the process was largely the same on all of them).
First, I drybrushed Leadbelcher over EVERYTHING – torsos, legs, weapons. This was on top of the Mechanicus Standard Grey basecoat that I had already applied to everything (and yes, i promise I thinned my paints!)
Then as per the advice of the Duncan tutorials, I drybrushed "features of interest" on the skeleton Balthazar Gold. So I went for obvious things such as exhausts, cogs, some interior armour plates, tubing, those kinds of details. read more
Greetings fans of the Executrix!
This article is going to be short today, but it's more to collate the upcoming process that i'll be trying to follow when paining the Knights for the army.
I'm now in a position where i'm ready to start painting the Knights. Before I watched any tutorials, I literally undercoated all of my models with Mechanicus Standard Grey:
Probably not the best undercoat for the die hard painters out there, but I hadn't used this before. My logic was twofold: read more
Greetings fans of the Executrix!
Apologies for the delay in this latest installment, but I do have some good news to report! The painting of the army is complete (well the knights are anyway)! I found myself with a fortunate abundance of spare time over the last few weeks, so I decided that I would take the chance to "paint now, blog later"!
Not to fear though, this just means that you loyal readers will be spoiled with a new article every day up until the end of the blog series!
I'm not going to get the Shield Captains built, or the Van Saar infantry painted that I had planned in time for the next few events, so those additions can come to the army at a later time (or maybe in the dead of night when I am feeding a cranky baby!) read more
Hey Guys!
For those of you following my Hobby Blog, you'll know that i'm working on a new Imperial Knights force. Taking a sidestep on the hobby content for that today to actually talk about some of my thoughts for tactics. I'm going to be talking mostly about Knights as a mono faction force, but I will include some other thoughts on allies near the end. This is all subjective, and of course please feel free to reserve the right to say that I am talking rubbish!
So I think a good place to start with this is "What are the big winners and big losers from the FAQ?" read more
Bad Decisions II
Or How I Learned to Stop Worrying and Love Rolling Dice
That's right 40K fans Bad Decisions 2 has been and gone so it's time to give you the low down on what happened.
First up Bad Decisions is a team based tournament over a weekend, with 4 players in each team. My team consisted of myself running a Chaos soup army, Commander O'Shea using a Knight list, Sean Morris Systems with his Tau and a ginger using Eldar. (To be fair Brian is a cool guy and anybody who says otherwise is obviously worse than a ginger.)
So we had the team assembled we just needed a name Team Mongo was the first one, then it changed to Team Exile and also to Team The Bump, it would transpire over the course of the tournament that we would have more team names than team wins. read more
Greetings fans of the Executrix!
Apologies that it's been so long since the last hobby update on this project, but much has been happening recently in my world! We had Bad Decisions II a few weeks ago, and we also found out that mini-me is on the way, due in March! So I've been very excited in many many ways! The baby news has given me more impetus to get this project over the line (as I am assuming that the majority of my hobby time will evaporate in March), so lets get to it!
This segment had me building the very cool Armiger Helverins – who I have to say in the playtesting I've done have been rather impressive on the table! read more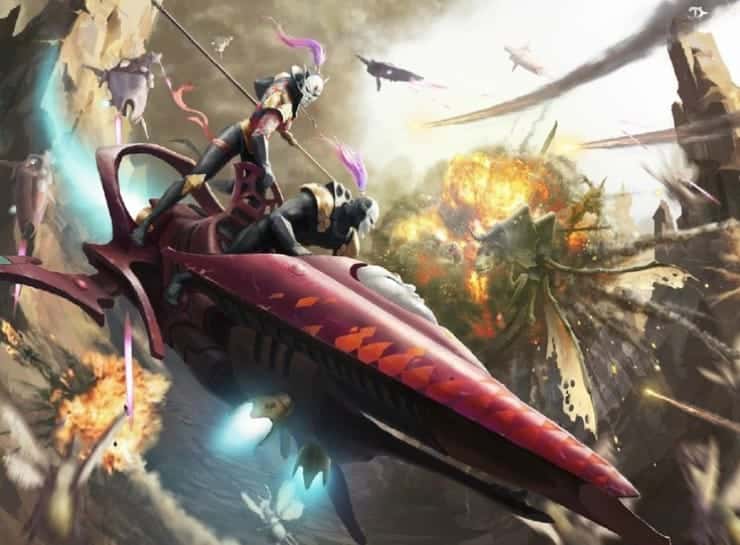 Just a quick update on my "Road to the LVO 2019" journey.
Sadly, the ITC Bunker Tournament last weekend was canceled due to a lack of attendees. However, I'm just back from Fire Warrior II a 1 day RTT run by the Border Rievers Wargamers. It was a fair size for a one day event (23 people) and had some of the best terrain I've seen at any tournament.