Archive for the 'CDW' Category
Well, as of the writing of this post, there are just over 3 weeks to go to the LVO 2019. List submission is 25th January, so I'm in my usual pre tournament list panic!
I'm just back from the Last Chance Open, an ITC Major of around 100 people. I took the following list
Just back from the Scottish Take Over 4. This is the second event I've been to up in Elgin, and it didn't disappoint. I went up with a couple of friends and we recorded our usual 40k Road Trip for the podcast. You[ll hear it shortly no doubt. These are the more detailed bat reps, and some thoughts on how my list performed.
I took the same list as I took to Rapid Fire the Weekend before. For convenience it was
I'm just back from Rapid Fire, one of the longest running tournaments in Scotland. I think it's maybe the 10th year in a row I've been? As always Stirling Wargamers put on a great event in their very impressive new premises, and I had a blast.
I took Harlies (surprise surprise), eager to see how the changes in the FAQ effected them. My list
So, with the "Dear Games Workshop" letter out the way, it's time to think a bit harder about how the change to Flip Belts effects the army (none of the other changes really effects Harlequins, other than maybe the change to reserves).
First question is – how important was jumping over models and terrain in the assault phase anyway?
Dear Games Workshop
Thank you for your recent FAQ. I really appreciate you taking the time to work on the rules as the game develops and deal with issues as they arise. However, (and you knew this was coming), I want to discuss the change to the Flip Belt rule for Harlequins, limiting it to work only in the movement phase.
This has a devastating effect on an army I love, and one I've played since the start of 8th edition. 
I think I understand the issue you were seeking to address – the ability to deep strike a model onto the top of a ruin, 9" from any enemy models, but within 1" horizontally. If Flip Belts (or FLY) allowed that model to ignore vertical distance in the assault phase, one need only "roll" a 1" charge. read more
I'm just back from the ITC Scottish Open, hosted by Knightly Gaming in Lanark, Scotland. I drove there with 2 friends, so we'll have the usual road trip report on the podcast soon – but for those of you who just can't wait (!) this is my Tournament report for the blog.
I'm going to the ITC 40k Bunker War next weekend. It's the first of 6 tournaments I have lined up before the LVO early next year. 
I've never been to this tournament before and I have no idea what to expect. So I think I need a reasonably balanced Harlies list. 
Last time I spoke about lists I was running my "standard" Harlies list – Shadowseer, Troupe Masters x2, Troupe's x5, Starweavers x5, Archon and 3 Ravagers with disintegrators. It's a good all round list with an answer for pretty much everything. However, it lacks an easy answer to Knights. You need to get the Starweavers up close and personal (ideally within 3") with their Fusions Pistols before you can really take a Knight apart. And while it is reasonably easy to get 3 Starweavers that close to a Knight (assuming no bubble wrap … not a safe assumption), Pistols are unreliable. read more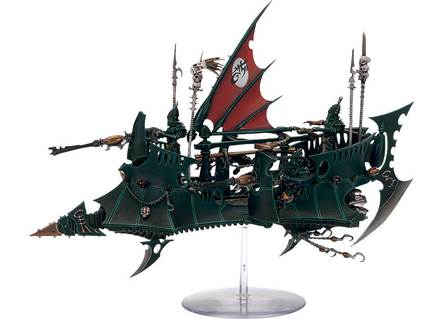 So in my previous post I said I've played 4 games with one of my "possible" lists. The list I've played with is
Harlies Battalion (Soaring Spite)
Shadowseer
Troupe Master, Fusion, Caress
Troupe Master, Fusion, Caress
Solitaire
Troupe, 4 Fusion, 4 Caresses x 5
Starweaver x 5
Drukhari Spearhead (Black Heart)
Archon, Splinter Pistol, Huskblade
Ravager, 3 Disintegrator Cannons x 3
A quick recap on the games and some thoughts on the list.
Greetings loyal citizens.
As I alluded to in the aftermath of the last event I attended, I have abandoned my heresy – for the short term anyways – and decided to see if I can utilise the hammer of the Emperor in a tournament for the first time in close to a decade. Though, once a heretic, always a heretic, so via the median of Indomitus Crusade reinforcements I've taken the once-traitors of the Lamenters as my weapon of choice for my next event. They are loyal, alright? Even the Inquisition agreed, after they'd crusaded to their near destruction without being allowed to induct new marines for 100 years. And they're not cursed, just unlucky. Even more so with me painting them. read more
Embrace your Inner Geek here with the Third instalment of my Harlequins Review. This time the generic Stratagems and Enigmas.