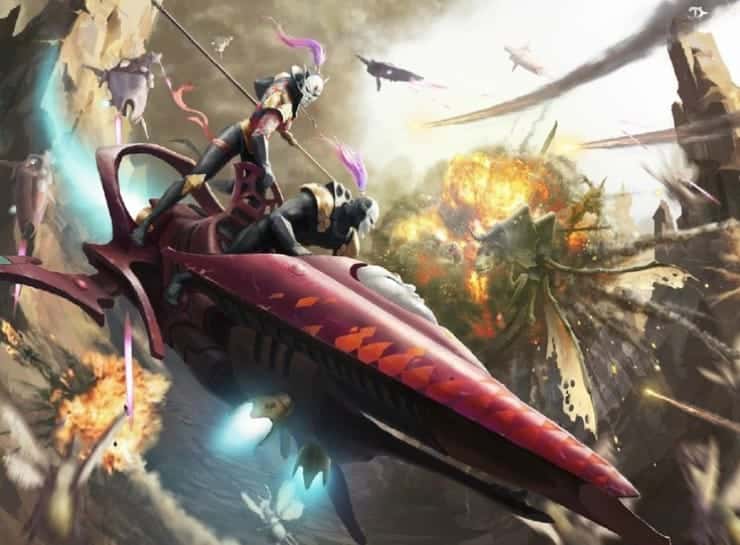 Just a quick update on my "Road the the LVO 2019" journey.
Sadly, the ITC Bunker Tournament last weekend was canceled due to a lack of attendees. However, I'm just back from Fire Warrior II a 1 day RTT run by the Border Rievers Wargamers. It was a fair size for a one day event (23 people) and had some of the best terrain I've seen at any tournament.
I'm going to the ITC 40k Bunker War next weekend. It's the first of 6 tournaments I have lined up before the LVO early next year. 
I've never been to this tournament before and I have no idea what to expect. So I think I need a reasonably balanced Harlies list. 
Last time I spoke about lists I was running my "standard" Harlies list – Shadowseer, Troupe Masters x2, Troupe's x5, Starweavers x5, Archon and 3 Ravagers with disintegrators. It's a good all round list with an answer for pretty much everything. However, it lacks an easy answer to Knights. You need to get the Starweavers up close and personal (ideally within 3") with their Fusions Pistols before you can really take a Knight apart. And while it is reasonably easy to get 3 Starweavers that close to a Knight (assuming no bubble wrap … not a safe assumption), Pistols are unreliable. read more
Greetings fans of the Executrix (bonus points if you read last edition's fluff article)! In this installment of the project blog, I take on the challenge of building and magnetising a Dominus class Imperial Knight – the dreaded Castellan!
This thing was absolutely monstrous! I didn't count, but there had to be at least 100 components in putting this beast together! The whole thing came over 3 separate sprues:
It was certainly looking to be a challenging build: read more
Tau are a tough match up for Harlies. They have a huge volume of s5 shooting, which will just blow through our -1 to hit buffs, and 4++ invulnerable saves. However, as always with Tau, once you're "in" it's pretty much all over. It's getting there that's the problem. 
So here are some thoughts about how to get into a tau gun line. Now, to be fair, this is more of a "thought experiment" than a true tactica. Circumstances will vary so much in execution that a blow by blow "play book" is a bit pointless. However, it's presented in that form here simply to illustrate at least some of the tools you can use. read more
Hey everyone!
Our next podcast episode will be up shortly, but while it's uploading I wanted to put out another post to gauge interest for a future episode.
Longer term fans may remember a one-shot RPG we did of the 40k based game Deathwatch:
I think i'd quite like to do another episode on this. I don't know what the status of the upcoming Wrath and Glory game is at the moment:
I would want to do one of the original FFG systems, either:
Dark Heresy
Rogue Trader
Deathwatch
Black Crusade
I would act as the GM for the game, but if there are fans of these games among our follower base out there and you'd be keen to play – please let us know! Whether you are local to us, or across the pond (or even down under!) we will work to make it happen. I have used Roll20 for remote sessions before, and in person is also fine. Either way, if you are interested then please get in touch via the website, Facebook or Twitter or via our email [email protected] read more
Howdy Blog Fans! You lot are probably sick of me not actually getting to the painting piece of this project yet… well….. that's still a way off. I am working hard to try and get started on it soon though, but this is project is a marathon not a sprint! Instead i'm going to talk about the dreaded "F" word that is maligned by many 40k enthusiasts. That's right folks… this update is a fluff piece!
So I have actually had a couple of comments asking me about what the heck IS House Ordos? I will try to answer that question in this edition. How many of you remember Westwood Studio's "Dune II – The Battle for Arrakis?" (or alternatively "Dune II – The Building of a Dynasty?" The original Ordos Mentat was Ammon. read more